Tattoo Convention Mayan Mayhem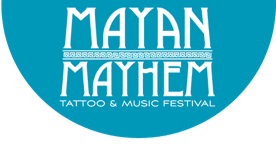 Oasis Arena / The Pyramid at Grand Cancun
From 05 to 09 Dec 2019
Tattoo Convention Mayan Mayhem
They say that when you visit Cancun, you'll take home the sensation of its fine sand, the warmth of its people, the gentle ocean breeze, and the turquoise flare of its crystal-clear waters... they say you keep the memory of this land forever. But this time you might take more than everlasting memories with you... this time the vivid colors of a fantastic Cancun vacation might be on your skin...

From December 5th to 9th, 2019, join the most renowned tattoo artists worldwide, who will get together at the Mayan Mayhem Tattoo & Music Festival. The venue for this innovative concept will be the imposing Grand Oasis Cancun resort.
For four days you'll witness jaw-dropping skin art and delight your taste buds with unique gastronomic experiences ranked in TripAdvisor's Top 10; you'll soak up the sun in the longest pool of Cancun, and admire amazing acrobatic airborne shows throughout the resort's areas.
The best part is you'll get to enjoy all these benefits without even taking out your wallet, as they're part of the All-Inclusive plan.
Some of the events you'll gain access to during the Mayan Mayhem Tattoo & Music Festival, are:
BANDS
Mayan Mayhem will host three days of music including major headlining bands, which will be announced soon! These premiere concerts are included with your vacation package at no additional cost. The bands will be performing on a stage built on the sand overlooking the turquoise blue waters of Cancun.
TATTOO ARTISTS
Have you ever wanted to be the canvas of a fantastic work of art, designed by a prestigious tattoo artist? Now is the time! You'll enjoy an unforgettable vacation and get that inspiring design you've always dreamed of. Afterwards kick back and relax on the outdoor patio with unlimited meals and beverages; the most delicious reward after a long tattoo session with one of this internationally celebrated artists.
TATTOO CONTESTS
Not only you'll be able to show off a tattoo created by one of the best artists worldwide, but it'll be a one-of-a-kind work, since every design will take place in a tattoo contest, part of the Mayan Mayhem event.
Just imagine... they're the best, and their creations will take place in the competition. Can you figure out a better opportunity to get a tattoo that will blow your mind?
SEMINARS
You love skin art and so do we, that's why we've planned special moments to listen what the tattoo personalities have to say regarding new techniques, technologies, and personal experiences.
Save your seat in these seminars, where valuable information will be shared about the colorful world of tattoos.
They've got a lot to say. We've got a lot to learn.
MISS MAYA MAYHEM
What can be more perfect than a creation carefully designed by the most talented tattoo experts? Of course! A beautifully sculpted body to let every work of art shine the way they were supposed to. That's why the Miss Maya Mayhem contest is a must for those who admire both, women's beauty and body ink.
THE RESORT
An all-inclusive hotel very close to all the fun and the best attractions in the Cancun hotel zone; in Grand Oasis Cancun you'll get to live a luxury vacation near one of the most beautiful beaches of this Caribbean destination. Among its wide array of options, you'll find breathtaking live presentations, moments of true entertainment, such as concerts, music festivals, stage presentations and theme parties; everything is part of the all-inclusive experience.
If you're looking for the best Las Vegas-style entertainment and excitement, don't look any further; Grand Oasis Cancún is the only hotel with a casino in the hotel zone of Cancun. Here our guests find different experiences each day, as every corner has something unique waiting to be discovered, such as the sensual cabaret-style atmosphere of Kinky nightclub.
Everything you may wish for an incredible vacation in the Caribbean, you'll find it at Grand Oasis Cancún, among its world-class facilities; dare to discover its attractions, natural scenery, luxurious rooms, and countless gastronomic experiences.
YOGA EXPERIENCE
The Mayan Awakening is an add-on package to the Mayan Mayhem Tattoo and Music Festival for people looking for a little bit more. Enjoy daily yoga classes, an excursion to the place hit by an asteroid 65 million years ago, which caused the extinction of the dinosaurs.
Take place in a cleansing ceremony to stimulate the senses and dip into the fresh waters of a cenote. You'll also get to live the Temazcal experience, a traditional Mexican sweat lodge to remove toxins from the body, bringing a spiritual and mental rebirth; that's why we call it "the Mayan Awakening".