Hotel Oasis Cancun Lite
Picture yourself on a beach vacation, enjoying beautiful and comfortable facilities, in addition to the best activities and entertainment for spending unforgettable moments with family, friends or in couple. Moreover, if we take into account a privileged location, very close to the best Cancun attractions, such as ecotourism, fine dining and nightlife, you'll notice that the promise of a perfect vacation becomes tangible; and when on top of it, we add the outstanding lounge atmosphere of its beach club by the turquoise waters of the Caribbean, the sensual nights of Kinky Night Club and the naughty moments at Coyote Loco, you'll be absolutely amazed once you discover that your all-inclusive stay in Cancun suits your budget perfectly.
Oasis Cancun Lite rooms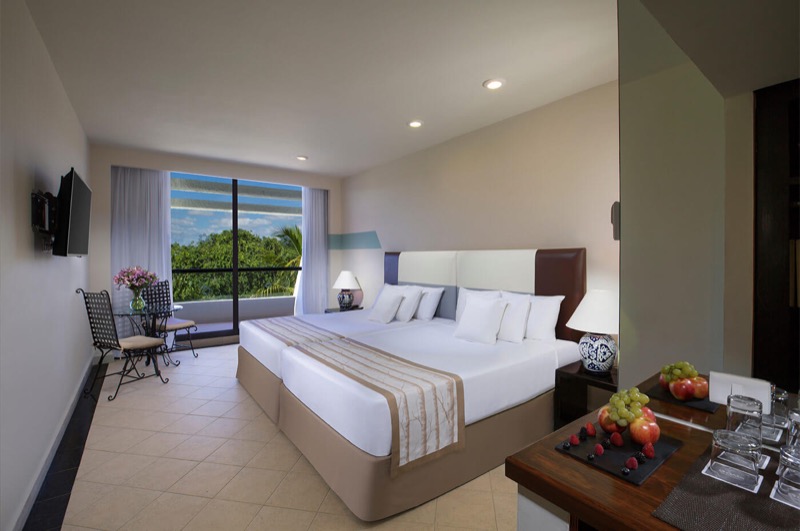 oasis lite
Enjoy all the comfort during your trip to Cancun in our Oasis Lite room. With all the necessary amenities, this room has a sober and relaxing design, private bathroom, large beds and a breakfast area that will make your stay in the Mexican Caribbean a pleasant experience. Book your stay at this fantastic all-inclusive resort today.
highlights
Cozy rooms with King size bed or two double beds
Flat screen 40 inches
Amenities
Check in and Check out express.
2 Double beds.
Bath amenities and beach towels.
WIFI (2 devices per room).
USB ports.
Iron and Ironing board.
Safety box.
Flat screen.
Air conditioning.
Hair dryer.
Alarm clock.
Telephone.
extra cost
Oasis Cancun Lite Facilities
Restaurants.
Bars.
Oasis Plus Customer Service.
Pool 400yd.
The Oasis Beach Club.
Gym.
Yoga, zumba, aerobics.
Tennis and Multiuse court.
Golf field.
Spa.
Beauty Parlor.
Temazcal.
Kids club.
Entertainment.
Convention room & Business center.
Tobacconist.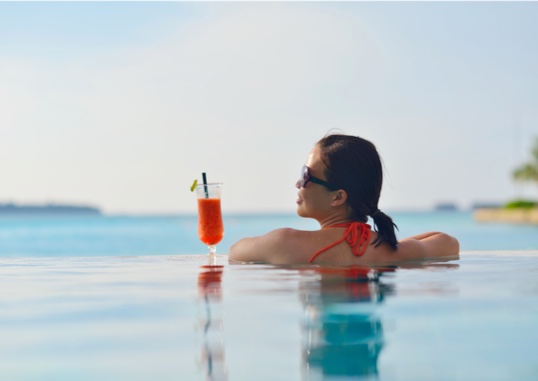 HOTEL / Hotel + Flight
Day Pass Oasis Cancun Lite
The warm Caribbean weather is the perfect excuse to enjoy an Oasis at the beach. Your Day Pass grants you access to our facilities, where you'll taste delicious meals, beverages and snacks. Cool down in the pool and relax with style while you get the perfect tan.
Oasis Cancun Lite location
Other hotels similar to Oasis Cancun Lite
Tell us about your experience
You get what you pay for
2019-02-21 21:23:31 hrs
My room was great. Wish that they would have kept putting water and coke in the refrigerator. Yes we had to pay extra for the lock for the safe. It rained all day one day and could not go to some of the restaurants
Low profile Hotel
2019-02-23 10:23:31 hrs
Big infrastructure, not the better services , good food, very full more that 100% capacity, so Staff are always busy. Pools are big and clean, Restaurant need more waiting areas, need improvement at AC, excellent location and need to improve access
Amazing
2019-02-23 23:23:31 hrs
I'm being honest, the hotel was in perfect condition, air conditioning worked really well, service was excellent! The food was amazing. I wore a purple bracelet and was afraid again because of the reviews that not much would be available to me
A fun hotel to stay at!
2019-02-25 08:53:32 hrs
This is a great hotel to stay at if you are looking to have a fun time. They have a good variety of restaurants, bars and entertainment. I loved he beach club! They have a different party every day in the afternoon and it was a blast
Birthday week getaway!
2019-02-25 20:56:10 hrs
From previous reviews I was hesitant about the check in process but when we arrived it was smooth. We had Rene at the front desk and he was super helpful. Our room was great, the fridge was packed with water and sodas.
Write a review