Hotel Grand Oasis Cancun
An all-inclusive hotel very close to all the fun and the best attractions in the Cancun hotel zone; in Grand Oasis Cancun you'll get to live a luxury vacation near one of the most beautiful beaches of this Caribbean destination. Among its wide array of options, you'll find breathtaking live presentations, moments of true entertainment, such as concerts, music festivals, stage presentations and theme parties; everything is part of the all-inclusive experience. If you're looking for the best Las Vegas-style entertainment and excitement, don't look any further; Grand Oasis Cancun is the only hotel with a casino in the hotel zone of Cancun. Here our guests find different experience each day, as every corner has something unique waiting to be discovered; everything as the sensual cabaret-style atmosphere of Kinky nightclub.Everything you may wish for an incredible vacation in the Caribbean, you'll find it at Grand Oasis Cancun, among its world-class facilities; dare to discover its attractions, natural scenery, luxurious rooms, and countless gastronomic experiences.

Oasis Hotels & Resorts
Post Covid-19 Program


Oasis Hotels & Resorts
Offers free Covid-19 testing
for its guests
Grand Oasis Cancun Facilities
Restaurants.
Bars.
Oasis Plus Customer Service.
Pool 400yd.
The Oasis Beach Club.
Gym.
Yoga, zumba, aerobics.
Tennis and Multiuse court.
Hippie Chic Beach Club.
Spa.
Beauty Parlor.
Temazcal.
Kids club.
Entertainment.
Kinky Night Club.
Convention room & Business center.
Tobacconist.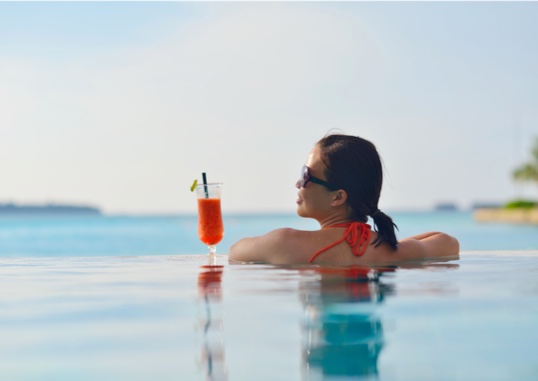 HOTEL / Hotel + Flight
Grand Oasis Cancun location
HOLD ON A SECOND!
For limited time, enjoy an upgrade to THE PYRAMID,
an unforgettable experience for a small extra fee.
After all... YOU DESERVE IT!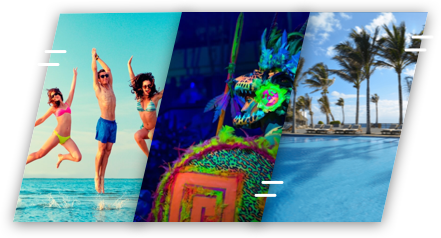 Other hotels similar to Grand Oasis Cancun
frequently asked questions of
Grand Oasis Cancun
We are the masters of fun with our multiple activities: contests, zumba, theme parties, DJs, special events and more. All our guests can enjoy this experience.
Every week we have theme parties: The Oasis Beach Club

*This is an adults-only activity.
There is no golf course in our resort; however, we have a preferential agreement with Puerto Cancun Golf Club for our clients.
Each year our resort has special concerts for Spring Break. We recommend that you to take a peek to our videos and photos of our Last Events.
Dates may vary between the months of February and March. Follow us on our social media, so you don't miss any details.
It's free for our guests.

* Subject to change without notice.
Make your moments last a lifetime with our photography team O Photo. We offer amazing packages for our guests. Schedule your session here.
• Free Wi-Fi is included with the Pyramid category.

• For the other categories you can buy internet cards:
 $10 USD or $200 MXN for 24 hrs
 $25 USD or $500 MXN for 5 days
- Available for all customers who have their own device. Sold in vending machines located at the lobby of Palmar 1 and Pyramid.

• Paying online with a credit card:
 1 hour for $5 USD
 12 hours for $7 USD
 24 hours for $10 USD
 5 days for $30 USD / 2 devices for $40 USD
The Grand Oasis Cancun category provides access to certain restaurants, bars, and facilities, while The Pyramid category offers a complete experience to enjoy.

- Grand Oasis Cancún
- The Pyramid at Grand Cancun

* Restrictions apply.
* Subject to change without notice.
Restaurants: Fontainebleau and Benazuza only for The Pyramid and The Sian Ka'an at the Pyramid categories, and The White Box, available for all guests.
Bars: Red Kinky, Red Havana Night Club, Havana Cigar Corner, and Coyote Loco offer free access for al guests in the complex. Benazuza Lounge Bar and Fontainebleau are exclusive for The Pyramid and The Sian Ka'an at The Pyramid categories.
Entertainment: Red Cabaret, Red Casino, and Red Kinky.
Facilities: The Oasis Beach Club, Kin Ha Spa, and Sensoria Health & Spa, exclusive for The Pyramid and Sian Ka'an categories.
Tell us about your experience
Fabulous
2020-01-18 04:30:00 hrs
We haven't been to a all inclusive resort like this before. Thanks for all the great memories that the wife and I will share forever. Can't wait to get back there in the near future.
Great Hotel
2020-02-15 20:22:33 hrs
This great hotel kept me and my 2 girl freinds very happy and entertained. We would like to send a special THANK YOU! To Jose and Gris from Sunwing ep they suggested the most amazing activities. We did the ATV adventure and the catamaran, we had a bl
Write a review