benefits of booking withOasis hotels
Safe purchase
100% safe purchase process. Avoid fraudulent agencies and secure your reservation directly with Oasis Hotels & Resorts.
More Info
Personalized Attention
We boast several ways of communication, in order to provide you with clear information and the best purchase process experience.
The best rate guaranteed
We guarantee the best rate by visiting our official website oasishoteles.com or through an agent of our Contact Center +52 998 287 4478.
Flexible cancelation
Are you changing plans? Don't worry, we will protect you from any unexpected situation, with a simple cancelation process and full flexibility for making changes.
Grand Oasis Cancun
An extensive offer of entertainment, shows, absolute comfort, wide spaces, and turquoise blue ocean; these are some of the features of this all-inclusive resort, located in one of the mos beautiful beaches in Cancun.
Grand Oasis Cancun offers daytime & nighttime experiences, activities for all likings, and an assortment of international culinary options for the whole family. Moreover, its wide facilities boast adults-exclusive areas, ideal for enjoying a couple vacation or with friends.
In its rooms' comfort our guests find the best rest, in addition to beautiful decoration that is enhanced by the incredible views of the ocean or sunset.
HIGHLIGHTS
Grand Oasis Cancun
Adult only areas
All-inclusive family resort with adults-only areas.
1,378 rooms and suites with ocean, garden, or sunset view.
Restaurants with options of Japanese, Mexican, international, seafood, etc.
437 yards long swimming pool.
Wide beach clubs with Bali beds, sunbeds, and pools, with beverages & snacks service.
Extensive beach with 710 yards of white sand.
Daytime & nighttime entertainment.

Exclusive bars: Coyote Loco, Kinky Night Club, and Fontain Cigar Corner.
Nighttime entertainment: Kinky Night Club, Oh! Beach Club, Le Bleu, and Coyote Loco.
Red Casino 24 hours.
Sensoria Health & Spa.
Oh! Beach Club.

BEACH CLUBS
Grand Oasis Cancun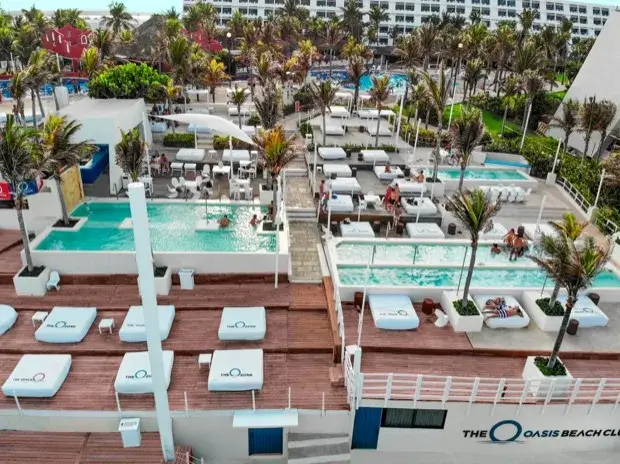 OH BEACH CLUB
GRAND OASIS CANCUN
Bali beds

Pools

Domestic open bar

Stage with DJ

VIP Section: Butler service & international beverages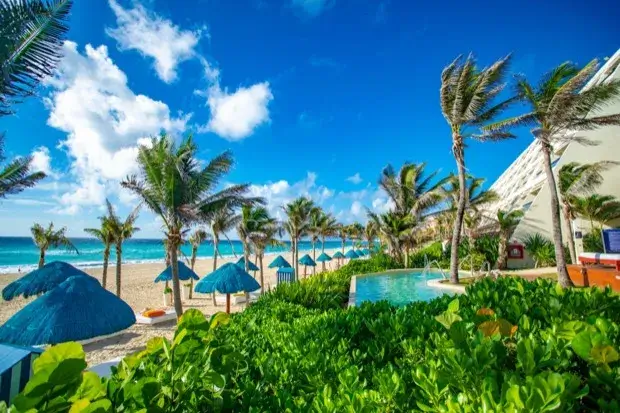 HIPPIE CHIC BEACH CLUB
GRAND OASIS CANCUN
Bali beds

Pools

Domestic open bar
Grand Oasis Cancun

Facilities

Most recommended...
Oasis Plus Customer Service.

Download the oasis hotels & resorts app and get access to the calendar of events, as well as activity and restaurant schedules of oasis hotels.
Pool 400yd.

Yoga, zumba, aerobics | Gym.

Tennis and Multiuse court.

Hippie Chic Beach Club.

Beauty Parlor | Spa Sensoria.

Kiddo Zone.

Sports & Activities.

Convention room & Business center.

Tabaqueria: Boutique with crafts, souvenirs and snacks.

24-hour Red Casino: games and consumption with extra charge.

Viajes Caribe Maya: Tours y Excursions | The O Photo.

Live Nighttime Entertainment: Atrium For All Kinky Night Club, Oh! Beach Club, And Coyote Loco.

El Zócalo: Entertainment, Beverages, And Open Air Snacks..

Oh! Beach Club: Stage, Dj Booth, And Domestic Open Bar | Vip Section.
Download the oasis hotels & resorts app and get access to the calendar of events, as well as activity and restaurant schedules of oasis hotels.
HOTEL / Book Hotel + Flight
Oasis Hotels
A paradise on earth

Grand Oasis Cancun

Location
Other hotels similar to
Grand Oasis Cancun
frequently asked questions of
Grand Oasis Cancun
We are experts in providing entertainment with our variety of activities, such as Zumba, DJ sessions, special events, weekly theme parties, and more. Moreover, these experiences are available for all our guests; the only requirement is being of legal age.
There is no golf course in our resort; however, we have a preferential agreement with Puerto Cancun Golf Club for our clients.
Each year our resort has special concerts for Spring Break. We recommend that you to take a peek to our videos and photos of our Last Events.
Dates may vary between the months of February and March. Follow us on our social media, so you don't miss any details.
It's free for our guests.

* Subject to change without notice.
Make your moments last a lifetime with our photography team O Photo. We offer amazing packages for our guests. Schedule your session here.
For all guests at Grand Oasis Cancun, the WiFi service is included free of charge with their reservation. Additionally, we offer an option of Premium WiFi, available at extra cost.
When you book your stay at Grand Oasis Cancun, you gain access to an assortment of restaurants, bars, entertainment, and facilities. On the other hand, those who book The Pyramid at Grand Oasis and The Sian Ka'an at The Pyramid enjoy more luxury and added benefits, in addition to all features included at Grand Oasis Cancun hotel.
Restaurants: Benazuza, Careyes, and Cocoa

Bars: Fontain Cigar Corner, Kinky Night Club, Coyote Loco, Benazuza Lounge Bar, Fontainebleau, and Sian Ka'an Health Beach Bar.

Entertainment: Red & Blue Cabaret, Fontainebleau, Red Casino, Coyote Loco, and Kinky Night Club.

Facilities: Oh! Beach Club, Kin Ha Spa, and Sensoria Health & Spa.
Tell us about your experience
Beautiful Property
2019/02/21 11:02 hrs
The property of the Grand Oasis is absolutely stunning.The landscaping is the nicest I have ever seen. The beach in front of the resort is lovely.I wasn't crazy about the options at the restaurants because I am vegetarian and it was extremely limited
Had the best time
2019/02/22 05:02 hrs
Lots of drinks. Food. Sunshine. Music. What more could you want... Zero issues. Had a blast. Food was decent. Typical north american breakfast. Lots of people in their 30s/40s. Not many kids and those that were there were not noticeable.
Family Vacation
2019/02/22 11:02 hrs
This was the best family vacation I mean all the staff were soo nice and very welcoming my kids had a blast the food was very good and it was a great experience overall. From the moment we got there untill it was time to leave it
Great Stay and Lots of Fun
2019/06/07 04:06 hrs
Always a great Stay. Comfortable Room with Awesome View in the Pyramid. The food at the Steakhouse was amazing. Very friendly staff. Check in was seamless. Loved the shows in the Kinky Bar and had a great time in the beach club.
Fabulous
2020/01/18 04:01 hrs
We haven't been to a all inclusive resort like this before. Thanks for all the great memories that the wife and I will share forever. Can't wait to get back there in the near future.