Hotel Oasis Palm
Comfort, fun, countless activities, and the friendliest attention; all these and more await at Oasis Palm, the perfect resort to enjoy an unforgettable family vacation. With beautiful and cozy family rooms, and some more showing fun themes that kids love, this Cancun family hotel allows guests of all ages to live their own adventure, with recreational activities and water sports on a fantastic white sand beach splashed by turquoise blue waters.At Oasis Palm, adults get to savor exquisite cocktails seaside or by the pool; meanwhile the little ones spend amazing moments at our fantastic KiddO Zone, an area designed especially for them, with activities and facilities their size. In addition to a small restaurant that serves delicious and fun dishes, KiddO Zone boasts a kiddie pool, mini-sunbeds, waterslides, a videogames room, and hundreds of didactic activities; always cared for by our highly qualified personnel. Whether it is spending time with family or letting yourself enjoy a good rest, at Oasis Palm you'll always find a wide array of options, with the traditional warm attention that distinguishes us.
Oasis Palm rooms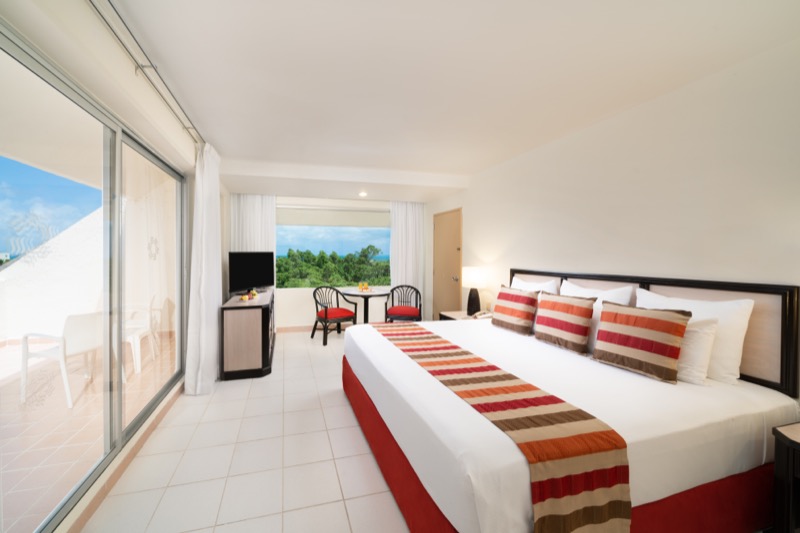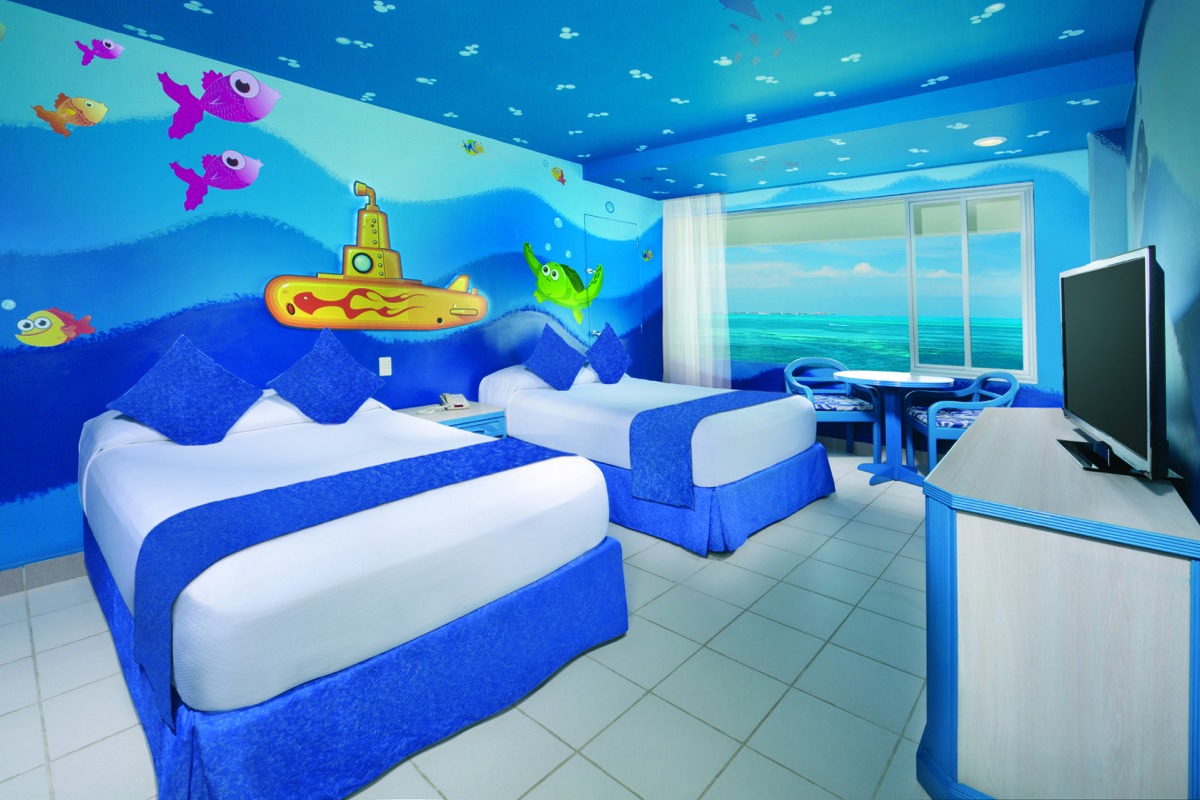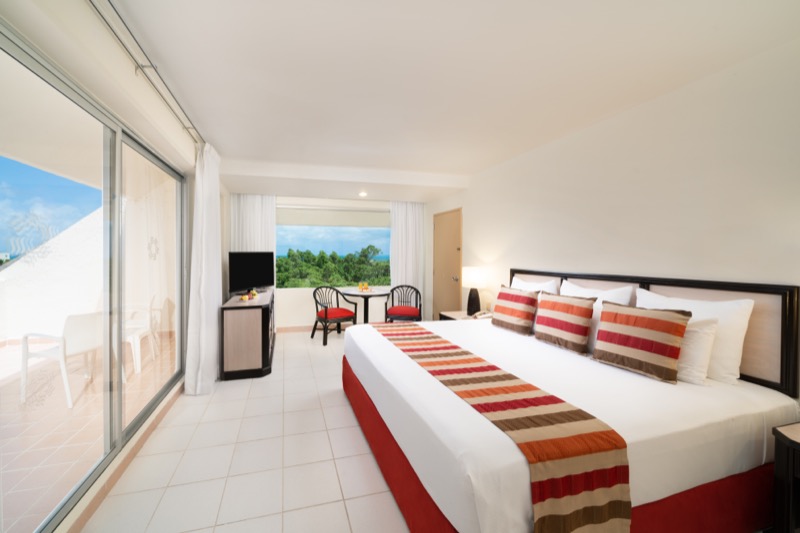 Family Suite
Our Family Suite, equipped with all the necessary amenities which will make parents and children have a relaxing, fun and enjoyable trip.

This Suite consists of two connecting bedrooms with harmonious and modern designs, each offering air conditioning, a private bathroom, comfortable beds perfect for a good night sleep.

Stay at our Family Suite and take pleasure in a great all-inclusive vacation.
highlights
Interconnected rooms
Kayak
Kiddo Zone (special for kids)
Multiuse court
Amenities
1 King size bed or 2 double beds.
Bath amenities and beach towels.
WIFI (2 devices per room).
Safety box.
Flat screen.
Air conditioning.
extra cost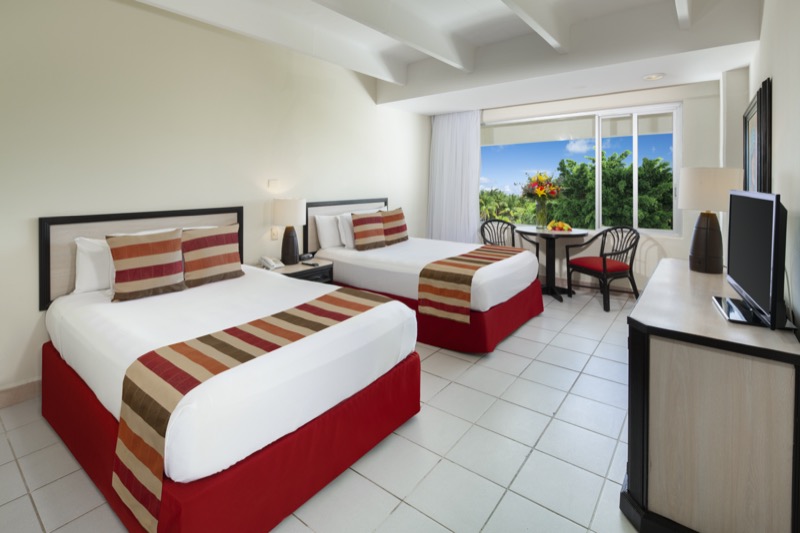 Standard
Our Standard rooms are comfortable, fresh and beautifully decorated with soothing colors and an intelligent distribution of spaces to let you organize your belongings.

After a day of fun, water activities and getting a nice tan, you?ll consider our Standard rooms as your own private hideout, allowing you to recover your energy and get ready for another perfect day under the warm sun of Cancun.
highlights
Kayak
Kiddo Zone (special for kids)
Multiuse court
Cozy rooms with King size bed or two double beds
Amenities
1 King size bed or 2 double beds.
Bath amenities and beach towels.
WIFI (2 devices per room).
Safety box.
Flat screen.
Air conditioning.
extra cost
Oasis Palm Facilities
Oasis Palm | Grand Oasis Palm Restaurants (Special areas for kids).
Bars.
Oasis Plus Customer Service.
Pools (Special areas for kids).
Water Activities (Kayak and Aquaerobics).
Multiuse court.
Biking Tour (Family activity).
Spa (Adults Only): Sauna, steam room and body treatments.
Beauty Parlor (Adults Only).
Kiddo Zone (Special for children).
Entertainment.
Convention room & Business center (3 rooms | 400 Pax).
Tobacconist: Boutique with crafts, souvenirs and snacks.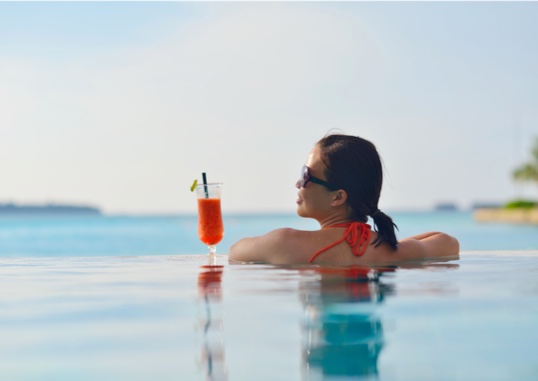 HOTEL / Hotel + Flight
Day Pass Oasis Palm
The warm Caribbean weather is the perfect excuse to enjoy an Oasis at the beach. Your Day Pass grants you access to our facilities, where you'll taste delicious meals, beverages and snacks. Cool down in the pool and relax with style while you get the perfect tan.
Oasis Palm location
HOLD ON A SECOND!
For limited time, enjoy an upgrade to GRAND OASIS PALM,
an unforgettable experience for a small extra fee.
After all... YOU DESERVE IT!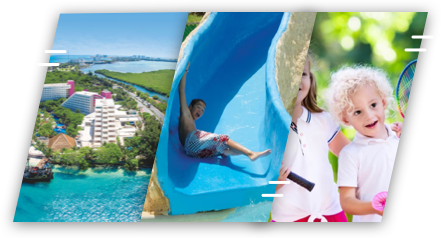 Other hotels similar to Oasis Palm
frequently asked questions of
Oasis Palm
Of course! Our incredible Kids Club and KiddO Zone offer fun activities such as: board games, cooking lessons, gaming rooms, in addition to a small pool area with slides and mini lounge chairs designed for the little ones to enjoy big time, just to mention some of the attractions. Keep in mind that only children between 3 and 12 years old can be supervision of our team of experts, allowing the adults to chill and spend some time enjoying our pools, bars, and restaurants. Pleas note that kinds under 3 years old, shall be accompanied by a tutor at all times. The schedule of this fantastic place is from 9:00 am to 8:00 pm on a daily basis.
Inside your room you'll find a menu with information about the different culinary options, dishes, snaks, and beverages available for you to order at any moment, as our room service staff will be available to meet your requests 24 hours a day.
We certainly do! Our resort will take to enjoy several family activities such as live music, night shows, karaoke nights, in addition to a biking tour, the most fun kayaks, just to mention a few.
Each of our Oasis Palm rooms is equipped with different amenities such like bathing cap, moisturizer, hand soap, and of course, body wash gel, shampoo, and towels. These amenities will be resupplied at the time your room is cleaned, so don't worry, as soon as you come back from a perfect family day, you'll find all amenities restocked.
The safe can be rented for $120 MXN per day. You can ask for this service directly at the Oasis Plus Customer Service department.
Tell us about your experience
The best trip i ever had
2019-02-10 13:36:50 hrs
I just got back from an amzing week at oasis palm everything was amazing the food the staff the bartender was amazing and a big thank you to oli-ven the anamator guy and his crue for the fun and amazing moment
Cancun Vacation
2019-02-15 10:48:31 hrs
Very nice resort.Lot's of pools,but 1 should have been heated.No hot tubs.Once you are there you don't have to pull out cash or credit card.You pay for all meals & drink before your stay.All in 1 place .
AMAZING ENTERTAINMENT CREW
2019-02-20 12:35:57 hrs
At first when getting to the resort we were very bummed out because there were a lot of children, and we were all 18+ But the entertainment crew at this resort made the trip so worth it they always had something fun going on like salsa lessons, yoga
Labomba
2019-02-24 14:49:40 hrs
Best food we ate in Cancun was Labamba. The waiter did a great job, his name was Bartolomeo. Carlos was also great. The hostess name was Samantha. The cooks name was Armando the food was superb. Jorge, Amado Bravo, Rosendale were all great.
2 weeks in cancun
2019-02-25 02:32:05 hrs
2 weeks well spent in Mexico. It was our first time visiting and we?re already looking to return. We had a couple of issues with the accommodation which were soon put right which meant we could continue to enjoy our vacation.
Write a review