Hotel Smart Cancun by Oasis
With an appealingly smart personality, and an entrepreneurial ambience, Smart Cancun is a hotel located in downtown Cancun. Whether you're traveling for business or pleasure, this is the perfect choice to remain few steps away from everything you may need, as it can be found right in the heart of a main avenue. In its rooms you'll discover top quality amenities, charming decoration and a luxury level beyond expectation.Smart Cancun also boasts several halls equipped for holding the most successful corporate meetings, in a friendly environment that boosts creativity and teambuilding. Whether it is enjoying a coffee break or taking some time to taste its restaurants delicious creations, the success of that conference or corporate meeting is guaranteed. Traveling for business was never this pleasant. Discover Smart Cancun and take that business to the top.
Smart Cancun by Oasis rooms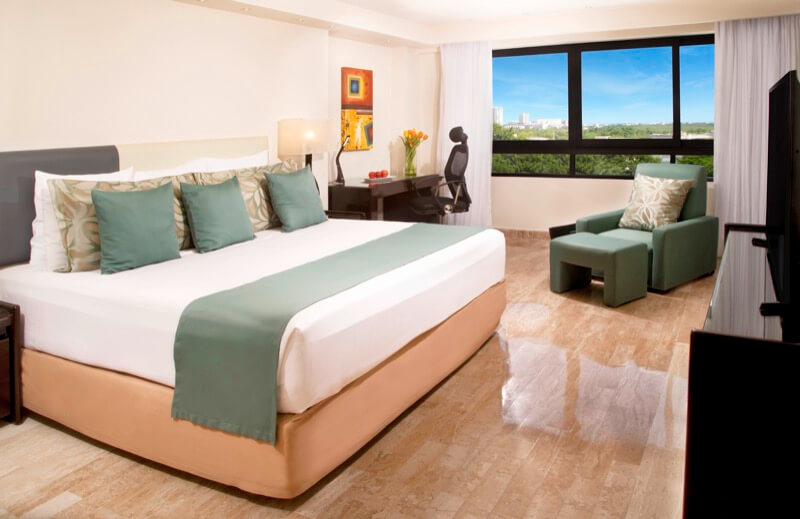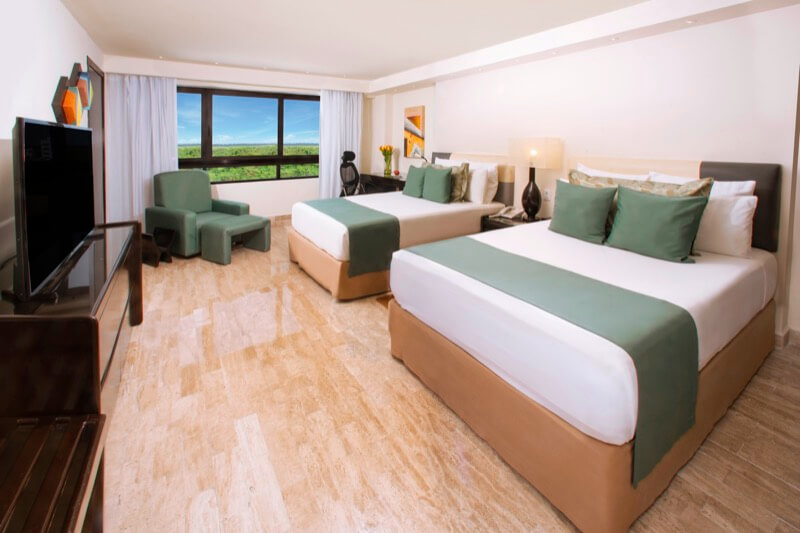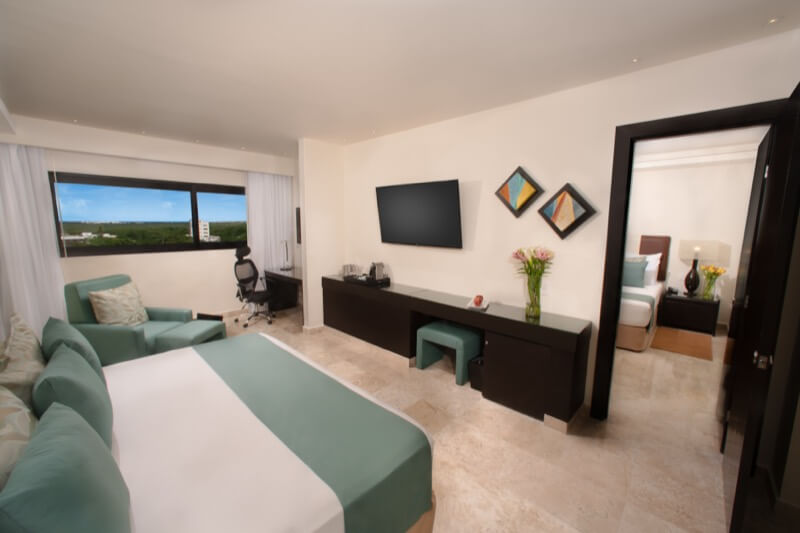 Smart Plus
With a higher level of comfort and featuring all amenities for preparing that meeting, the Smart Plus room exudes category, privacy and has everything required for a successful business trip. Discover this corporate atmosphere and boost that business' success.
highlights
Buffet breakfast included
Espresso coffee maker
IPod console
Room service 24 hours ($)
Preferential rates on all-inclusive day pass at the Oasis beach clubs
Amenities
1 King size bed or 2 double beds.
Room service 24 h.
Amenities.
WIFI (2 devices per room) Basic Internet for Whatsapp and Emails.
Flat screen.
Air conditioning.
Breakfast Buffet included.
extra cost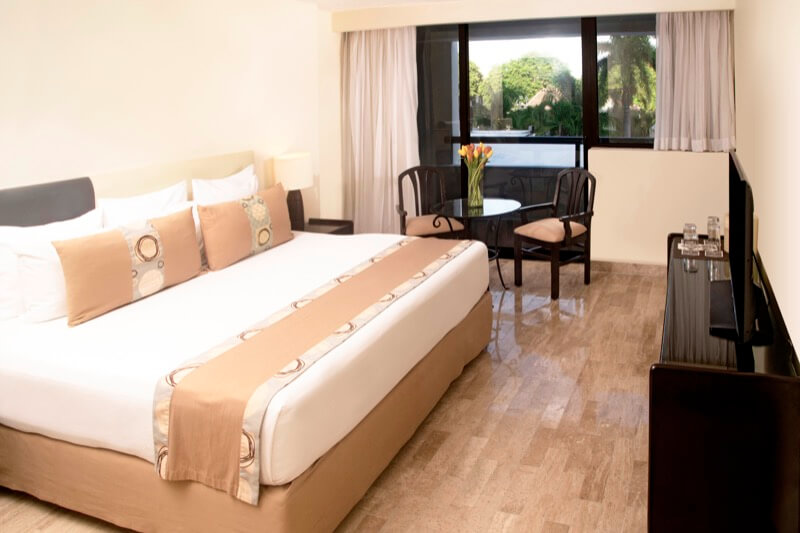 Smart
Live the moment in our Smart room, where you'll enjoy your stay in a sober and comfortable atmosphere ideal for business. Among other amenities, its soft beds and air-conditioned area guarantee the best rest possible.
highlights
Coffee machine
IPod console
Room service 24 hours ($)
Preferential rates on all-inclusive day pass at the Oasis beach clubs
Amenities
1 King size bed or 2 double beds.
Amenities.
WIFI (2 devices per room) Basic Internet for Whatsapp and Emails.
Flat screen.
Air conditioning.
Breakfast Buffet.
extra cost
Smart Cancun by Oasis Facilities
Restaurants.
Bars.
Pool.
Gym.
Spa.
High Speed Wifi.
Convention room & Business center.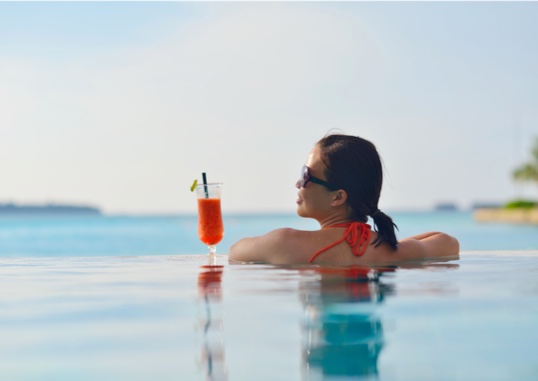 HOTEL / Hotel + Flight
Day Pass Smart Cancun by Oasis
The warm Caribbean weather is the perfect excuse to enjoy an Oasis at the beach. Your Day Pass grants you access to our facilities, where you'll taste delicious meals, beverages and snacks. Cool down in the pool and relax with style while you get the perfect tan.
Smart Cancun by Oasis location
HOLD ON A SECOND!
For limited time, enjoy an upgrade to OH CANCUN,
an unforgettable experience for a small extra fee.
After all... YOU DESERVE IT!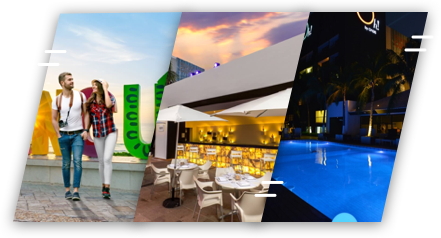 Other hotels similar to Smart Cancun by Oasis
Smart Cancun by Oasis rooms
welcome bonus
500 Smart Points

The best discounts
are in the Program
Smart Points
frequently asked questions of
Smart Cancun by Oasis
We are located on Tulum Avenue, next to the bus stop to the Hotel Zone, corner to Brisa street. Our address is: Av Tulum 13-14, Ecumenical Chapel, 22, 77500 Cancun, Q.R.
Yes. We have a car rental service available in our hotels, both for guests and anyone who needs it. For more information about rates, schedules, and availability please consult: info@oasishoteles.com and our team will help you with everything you need.
It depends on your kind of reservation. For more information you can check with your travel agency or upon arrival our reception area will provide you with more specific information. In case you don't have breakfast included, we offer this sevice to our guests at a preferential rate of $130 MXN per person.
We offer continental breakfast with salad & cold cuts bar. If you would like something different, we also offer a la carte breakfast.
Our breakfast is served from 6:30 am to 10:00 am at Le Buffet.
Smart offers the perfect environment for business while at Oh! our guests enjoy a lounge atomsphere. However, in order to provide you with the complete information, below you'll find these hotels' fact sheets, where you'll learn more about access to restaurants, room features, special services, etc.

Smart Cancun by Oasis
Oh! Cancun The Urban Oasis
Of course, you can use our swimming pool, gym, spa, restaurants, and meeting rooms. If you have more questions, upon your arrival our team will provide more detailed information.

* Our restaurants and meeting rooms have additional costs.
We have the option of an upgrade to Grand Oasis Palm for $65 USD per night or to Grand Oasis Cancun for $75 USD per night.

*Rates are subject to change without prior notice.
* Upgrades are subject to availability.
Tell us about your experience
Great staff!
2019-02-15 19:11:41 hrs
When My daughter and I arrived on feb 6 2019, we were efficiently taken care of by the hotel staff, with seamless check in.The rooms are a good size and clean. The pool area was very nice and was fairly quiet when we were there.
Comfortable & Convenient. Reasonable price
2019-02-20 10:18:38 hrs
We spent one night at this hotel en route to another locale on the Yucatan Peninsula. We got there late, so I really cannot speak to location in terms of other things to visit. The room was clean and nicely furnished.
Excellence Service
2019-02-24 16:13:24 hrs
Great hotel and friendly staff. I stay and work with banquets for bussiness. I recomend the staff of the events: Ariana Morales and Raúl Ruíz. The Coffe Break on events are great. The rooms are so nice.
Great Hotel
2019-02-24 18:16:10 hrs
I had a wonderful stay. The staff was very friendly and helpful. The rooms were kept very clean. I loved the balcony. Food was delicious. I'm looking forward to stay at Smart Oasis again real soon.Thanks!
Excellent Hotel!! "friendly service"specially the staff in the coffee shop.
2019-02-25 12:09:47 hrs
My husband and I had an awesome stay here at Oasis first vacation in Cancun and I really enjoy it beds were super comfortable and rooms were clean the staff at the hotel was very friendly and helpful and my favorite part of the day was every morning
Write a review