Hotel Grand Oasis Palm
With a friendly and warm atmosphere, you could say that Grand Oasis Palm is the bigger brother of two properties in the same location; it is the perfect resort to spend an unforgettable family vacation in Cancún, and here you?ll get the next level of all-inclusive benefits.

If you?re seeking to unwind on a white sand and turquoise water beach, and you?re craving a vast and exquisite variety of gastronomic options, Grand Oasis Palm has just what you need, with top quality restaurants where you?ll find everything from Mexican specialties, to the freshest seafood and fusion cuisine that will surprise the most strict taste buds.

At the KiddO Zone, kids get to live amazing adventures accompanied by their parents, in attractions, such as the Pirata's Bay area, the Yucatan Jurassic River, and the The Arcade videogames hall. Another attraction in this zone is the Baby Blue Crab kids club, where the smallest ones have fun with colorful, interactive, and imagination-filled activities, cared for and supervised by experts.

While the children spend moments of joy and fun, the adults get the chance of enjoying the resort?s restaurants and bars, in addition to adults-only areas, such as Sensoria Chill Out & Spa, where you?ll experience a moment of serenity in Jacuzzis, Bali beds, and massage cabins.

HIGHLIGHTS Grand Oasis Palm
Habitaciones y suites con vistas espectaculares y espacio para familias de hasta 2 adultos y 3 niños.
Gran diversidad de opciones culinarias todo incluido: restaurantes gourmet, restaurantes de cocina mexicana, italiana, japonesa, internacional, mariscos, sushi y snacks.
Kiddo Zone: área de atracciones para niños bajo cuidado y supervisión de expertos.
Zonas exclusivas para los adultos.
Zonas de interacción familiar: Yucatán Jurassic River, Pirata's Bay Pool & Beach Park y The Arcade.
Tour en barco pirata para toda la familia (2 veces por semana).
Tour de noche en barco pirata solo para adultos (2 veces por semana).
ÁREAS Grand Oasis Palm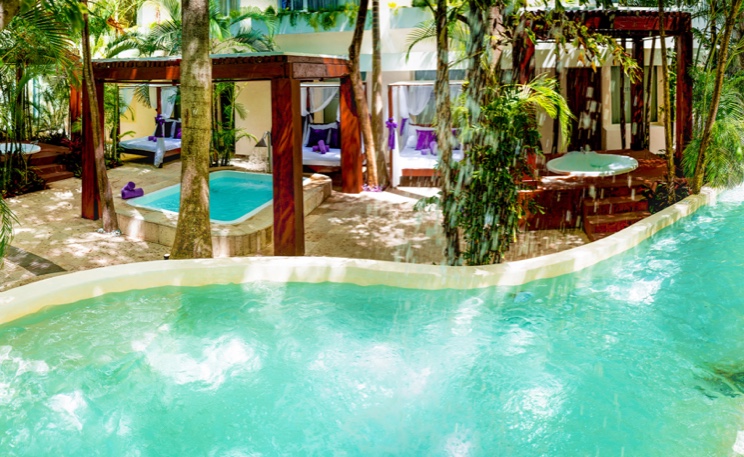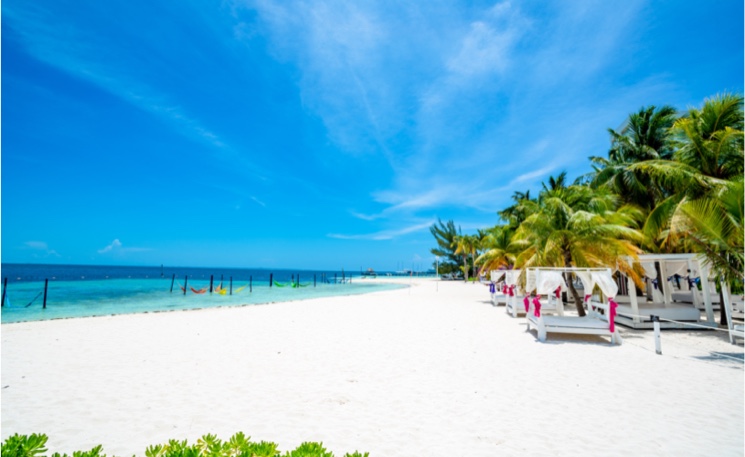 Grand Oasis Palm Facilities
Grand Oasis Palm
Bars.

Beauty Parlor (Adults Only).

Tobacconist: Boutique with crafts, souvenirs and snacks.

Restaurants.

.

Romantic dinner in front of the beach.

Bars (Only adults).

Oasis Plus Customer Service.

Swimming pools: special areas for children | 1 infinity.

Yoga, zumba, aerobics | Gym.

Kayaks | multipurpose court.

Sensoria chill out & spa: revitalizing treatments, jacuzzis and Balinese beds.

Kiddo zone: Kids club and family interaction areas.

Family pirate ship tour: twice a week.

Entertainment (Glass Bar | Kinky On Board).

.

Viajes Caribe Maya: Tours y Excursions | The O Photo.
HOTEL / Hotel + Flight
Grand Oasis Palm location
Zona hotelera de Cancún, junto al Embarcadero (puerto de salida a Isla Mujeres) y cercano a los centros comerciales: Puerto Cancún, Plaza La Isla y Malecón Las Américas
Other hotels similar to Grand Oasis Palm
frequently asked questions of
Grand Oasis Palm
Oasis Palm:

It is a family hotel with standard rooms and communicating family rooms.
Its main attractions are the family interaction areas, and a kids-only playground.
Its all-inclusive plan offers food and beverages in different restaurants and bars inside the hotel.
Services not included are: internet, safety box, Pirate Ship family tour, spa, mini bar, room service, in addition to the adults-only restaurants, bars, activities, and zones at Grand Oasis Palm hotel and for The Sian Ka'an at Grand Palm category, both of them located in the same property.

Grand Oasis Palm:

Oasis Palm hotel's older brother, located in a separate building inside the same property.
The rooms stand out due to their amenities, such as: internet included, iron, room service (with a delivery extra fee), coffee maker, and radio alarm clock.
Guests have an option to stay in a Grand Family Suite, paying an extra fee, in order to enjoy moments of privacy in a private Jacuzzi or plunge pool inside the room, in addition to other room that communicates with the children's.
Adults get to enjoy activities like the adults-only tour Kinky On Board, in addition to exclusive bars, restaurants, and areas.

The Sian Ka'an at Grand Palm:

Private registration, early check-in, late check-out, adults-only exclusive floors, a private Jacuzzi or plunge pool inside the room or at the terrace, available in the Master and Junior Suites.
Special amenities, such as internet, room service included without delivery extra charge, safety box included, and mini bar with snacks and beverages.
Adults-only relaxation space at the spa facilities, entertainment activities, bars, and beach area with butler service.
Careyes restaurant, exclusively for this category.
Yes, of course! We have an incredible Kids Club and a Kiddo Zone where children find many fun activities, such as board games, cooking classes, video games, as well as a small pool area with slides and lounge chairs, designed especially for the little ones, among many other attractions. Remember that only children between 3 and 12 years old can be supervised by our expert staff, while parents relax and enjoy our resort bars and restaurants at their own pace. Infants under 3 years old shall be accompanied by a tutor at all times. The schedule for this fantastic place is from 9:00 am to 8:00 pm all-week-long.
Yes of course! In our resort you can enjoy multiple family activities such as live music, karaoke nights, biking tours, and fun kayaks. We also have an exclusive family show for our Grand guests; The fantastic pirate ship! We invite you to schedule this amazing activity directly at Oasis Plus Customer Service.
The price is $175 MXN per service. Inside your room, you can find a menu displaying the different dishes and drinks available. Don't forget that our room service staff will be pleased to meet your requests 24 hours a day.
All our Grand Oasis Palm rooms boast different amenities such as dental, vanity, and sewing kits, bathing cap, moisturizer, hand soap, and of course, body wash gel, shampoo, and towels. Remember that these amenities will be restocked in your room, together with the cleaning service, so you don't have to worry about anything.
Tell us about your experience
Ouany Ramos, Daniel Perez, Meteuo Chavez
2020-02-12 16:36:57 hrs
These guys were friendly, polite and helpful, Everything was clean , tidy and neat. Food was ok. the fact that you have to reserve the restaurants in the morning was a hassle. So was the exclusive VIP at the beach, need to stand in line long time.
Write a review